381 West Farm Avenue | Newcastle | Longbenton | NE12 8UT

Metrovets Health Plan
Preventative care at an affordable price.
At Metrovets, we've designed our Metrovets Health Plan so that you as a pet owner can ensure your pets receive the very best quality preventative treatments, through a simple monthly direct debit.
Why Choose Our Health Plan?
The concept of spreading the annual cost ofhousehold bills is a regular and well recognised feature of our daily lives – why should the essential preventative treatments for your pet be any different? Extra benefits of the plan include discounts on many other products and services at the practice. Talk to one of our team for more information and sign up by completing a simple form.
Prevention Is Better Than Cure!
Our practice membership scheme has been set up to enable you to spread the cost of routine preventative health care. This allows us to provide you with the support you need to keep your pet fit and healthy year after year. It allows us to administer the appropriate vaccines, wormers and flea treatments at the correct time with minimal financial impact to you, the owner.
In addition, a thorough clinical examination allows us to carefully assess the general health of your pet and offer advice, support and treatment planning, which in many cases can prevent problems arising in the future.
---
The Metrovet Health Plan Provides Your Pet With
Annual health check and booster (see table)
Six month Health Check with a Vet
Flea treatments (sufficient for 12 months)
Worming treatments (sufficient for 12 months)
10% Discount On
Microchipping
Neutering
Diets & waiting room sales items
Dental work
Consultations
In-house blood tests
Surgery
Additional vaccination (e.g. Kennel Cough)
PETS Passport Scheme
Long-term medications
Additional Benefits
Exclusive seasonal offers and promotions
---
Costs For Pet Sizes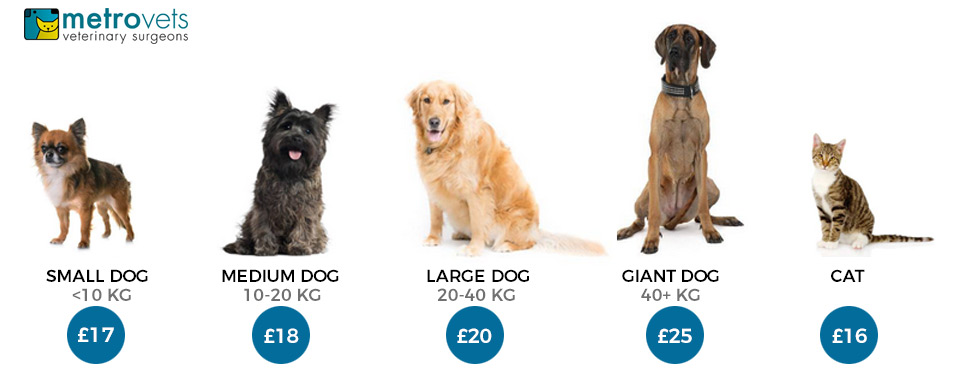 ---
Vaccinations Included In The Metrovets Health Plan
Dogs
Distemper
Hepatitis
Parvovirus
Parainfluenza
Leptospirosis
Cats
Flu
Leukaemia
Enteritis
---
Vaccinations Not included - But Discounted by 10%
DOGS – Kennel Cough (intranasal)
DOGS & CATS – Rabies
Prices shown are per pet, per month. All prices correct at time of print February 2017. PLEASE NOTE: The discount is available to clients for the stated procedures undertaken exclusively at our practice, and at no other clinics. Private cremations, out-of-hours consultations & referrals are not eligible for discount.